Introduction to Robotics at Westerville Community Center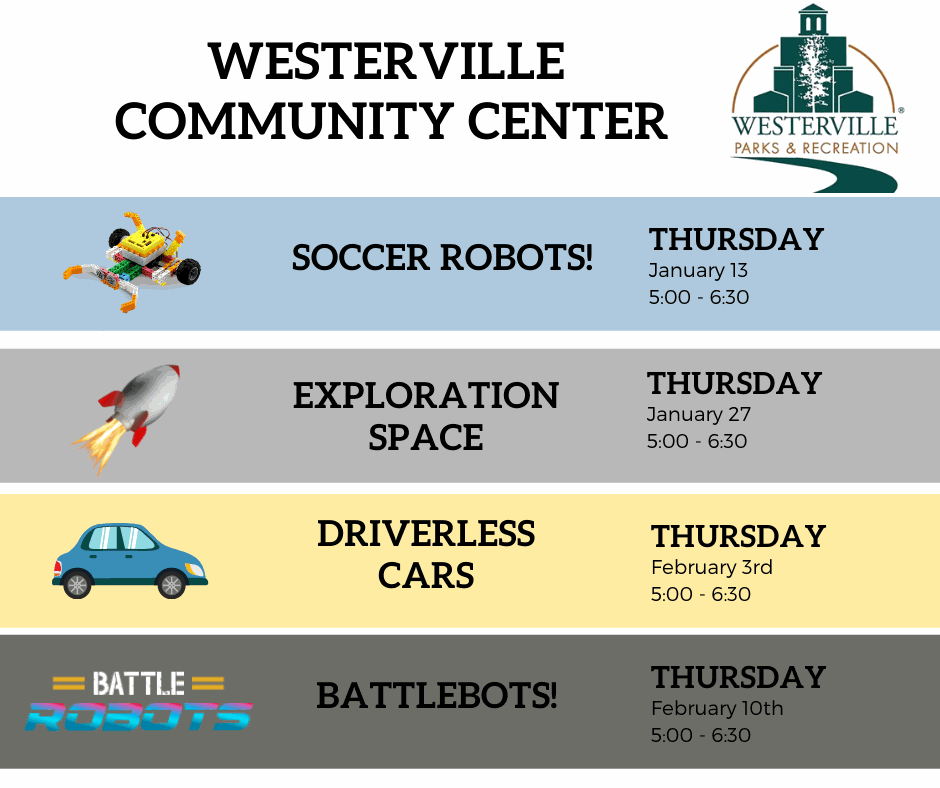 We will be running 4 separate introductory workshops at the Westerville Community Center.
These will take place on Thursdays starting January 13th.
Registration will take place at their website at:
https://web1.myvscloud.com/wbwsc/ohwestervillewt.wsc/search.html?display=Calendar&module=Event

Themes for the workshops are as follows:
Soccer Playing Robots with RoboThink
Let's build robots and play soccer! This workshop will introduce young builders to the world of robotics in a fun and engaging way. Participants will each build a robot that utilizes wireless remote controls, gear ratios and some creativity that will finish with a game of soccer amongst other participants! No experience necessary. Ages 6-13
Exploration Space with RoboThink
Inspired by popular movies, NASA, and space travel! Come on an adventure building functional robots in this super fun program. Kids will learn about space, space travel, stars, and gravity all while building a variety of interstellar robots! Your child will have a blast exploring the world of
robotics technologies as they build, learn, and play. No experience necessary. Ages 6-13
Driverless Cars with RoboThink
Let's face it, in the future, we're totally going to have self-driving cars.
Today, you're going to be building your own self-driven car that can travel around on its own! No experience necessary. Ages 6-13
Inspired by the hit television series RoboThink brings you BattleBots! In this workshop, participants will each build a robot and battle against other participants! No experience necessary. Ages 6-13